Useful Design Tips
This tutorial assumes you've got some knowledge about industry standard layout and design software programs
How to setup bleed
Bleed must extend to Bleed lines, beyond the Trim lines. Using our design templates will help visualize this. Make sure you keep all text and graphics you don't want trim within the Safety lines.

Safety lines are for safeguarding text and graphics that aren't meant to be cut.
Take into account that because of the mechanical tolerances in printing, the actual cut may occur everywhere in between the bleed and the safety lines. This is why it is crucial to keep your text and graphics within the safety lines.
It's good practice to keep all text or graphics that aren't meant to be cut off at least .25″ from the cut line.
Safety regions generally vary from .0625″ (1/16″) to .25″ (1/4″).
Would you accept borders on jobs?
Yes, however, if the border is too near the trim line, it could be cut off-center marginally.
We trim through numerous sheets at one time, so be careful with your borders to prevent an undesirable error.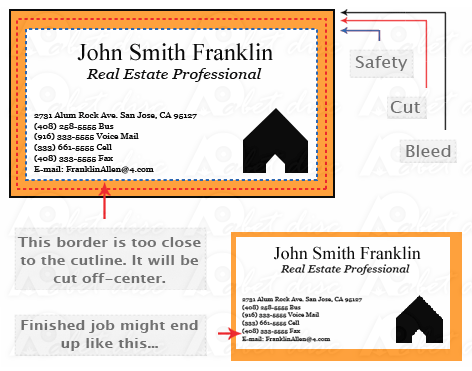 What color mode should my files be?
In the event you upload RGB files, there's a possibility that color shift may possibly occur and you might not be happy with your job.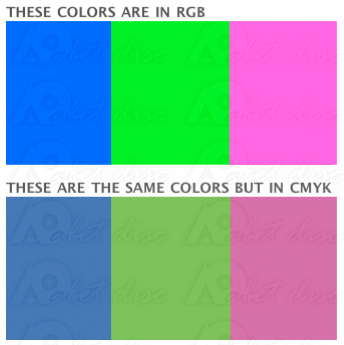 It is best to begin and complete your designs in CMYK color mode.
What resolution should my files be?
Lower resolution documents might be printed AS IS or might be put on hold until we receive new documents, slowing down your turn-around.
Files should be 300 dpi and no less.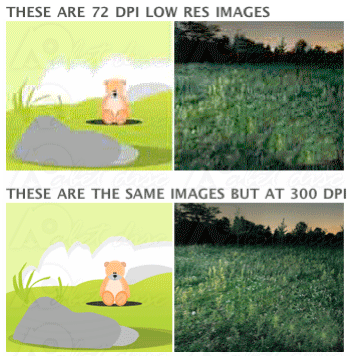 What type of files should i upload?
.jpg, .jpeg, .psd, .tif, .tiff, .eps, .ai, .pdf
Must I mail a proof or sample printout?
When uploading artwork, do not incorporate any excess files, like proofs or samples, only upload the files you would like printed.
How should I set up Spot UV job?
When designing a Spot UV job, You have to incorporate a Spot UV template file combined with the regular full color document. The Spot UV template file is required to indicate the spot that the UV will be applied. Use 100% K to show exactly where you desire the UV. White will indicate no UV.
How do i create a document for silver ink?
Silver ink files need to be submitted in a vector format. You have to use a vector software, like Illustrator or Indesign, to call out the object you'd like in silver ink.
To point out the silver ink, you have to set the object color to Pantone® 877 C. Any other color won't be accepted as silver. Also, marking the layer as "silver mask" or "silver" won't qualify your file.
Keep in mind, silver is a spot color and transparencies like drop shadows ought to be avoided.
How can I make certain my blues will not come out purple?
Whenever using a blue in your design, always make sure to leave a minimum of 30% difference in your Cyan and Magenta values. Blue is close to purple in the CMYK spectrum. Keep in mind, work with a lower level of magenta when making use of higher levels of cyan in order to avoid purple.
Example: C-100 M-70 Y- k-
How do I export a .pdf properly?
When exporting from any software for example Indesign or Illustrator, utilize these configuration settings to ensure your .PDF files export properly.
Adobe PDF Preset: Press Quality
Compatibility set to: PDF 1.3
Compress Text and Line Art is set to: Off
How do I get a grayscale image in a CMYK file?
Grayscale graphics which are converted to CMYK will have a color shift in the final print. That shift could be green or yellow. Always examine the CMYK values of your grayscale image in the final CMYK file. Should there be other values other then K in your grayscale image, there's a possibility that the color will vary. To wipe out all values other then K, make use of your Channel Mixer (adjustment layer) in Photoshop, then click "Monochrome" and adjust accordingly.
What is vibrant black and how do i obtain it?
Vibrant black is an ink combination of solid black, 100% K, with additional CMY ink values. This produces a more dark tone than black ink on it's own. If you print black on it's own as 100% K, the resulting black might not be as dark as you may like.
We recommend using…
C 60 M 40 Y 40 K 100
This will deliver a deep, dark, vibrant black.